Solaris 74 RS - A unique boat!
The history of Solaris Yachts is reinvented with the birth of the Solaris 74 RS. Over the years, the design and development of 22-metre yachts has left its mark on the Solaris shipyard: Solaris has created several models, each more innovative and efficient than the last. Each Solaris yacht has met the needs and ambitions of its owner, offering reliable and easy offshore sailing.
Thanks to the excellent work of its technical team and designer Javier Soto Acebal, Solaris has designed and implemented the owners' requests, to build the Solaris 74 RS - a unique boat.
The essence and improvement of the boat is developed in two stages. Firstly, the incredibly modern waterlines and forward buoyancy, provided by a small chine; secondly, the extremely rounded aft section, ideal for accommodating the two rudders.
The deck layout features a large cockpit with twin outboard wheels, while the companionway, offset to starboard, is easily accessible without the intrusion of the cockpit table, positioned to port. In addition, the cockpit backrests allow guests to sit in a seaward position, and they can even enjoy a large sunbathing area.
Down below, there are several different layout options, all characterised by a high level of comfort for 4 double cabins plus the crew cabin with separate bathroom. In addition, the bright and spacious elevated saloon diffuses extraordinary light and allows the engine room to be placed amidships.
The shipyard opens its doors to any owner willing to engage with it, to bring its energy and knowledge to its high-end yacht projects, with the aim of continuing together the history written by Solaris and by the people who love them - on a 22-metre Solaris yacht project.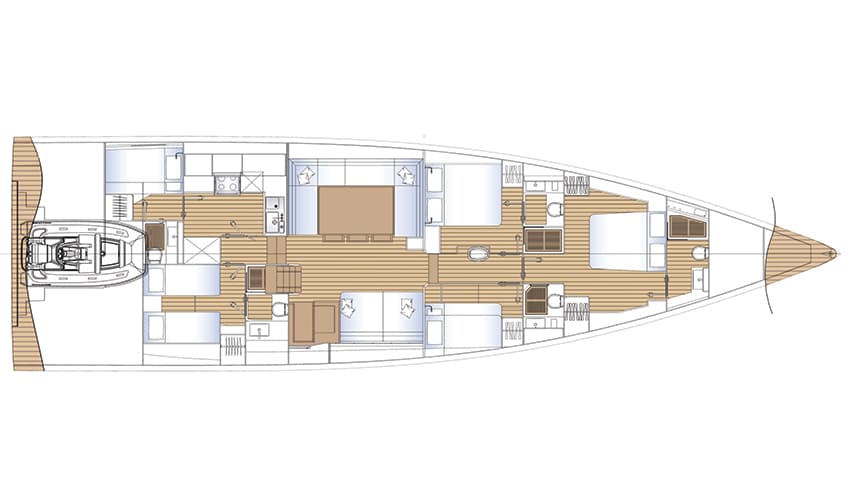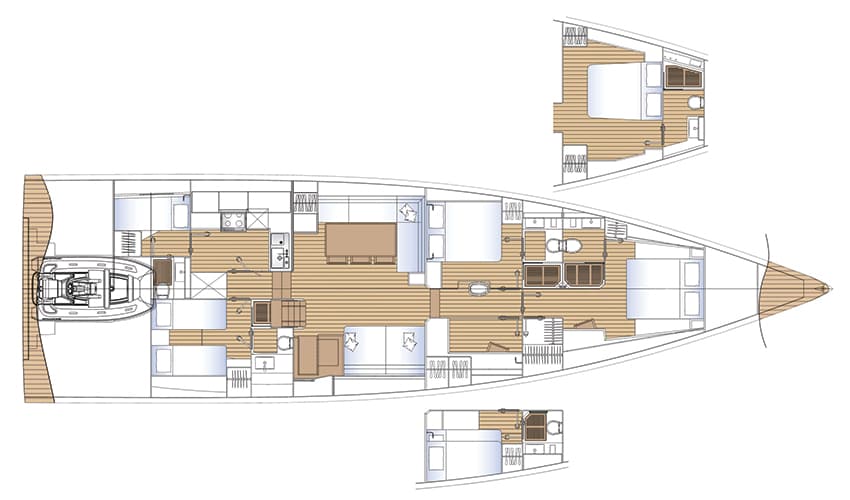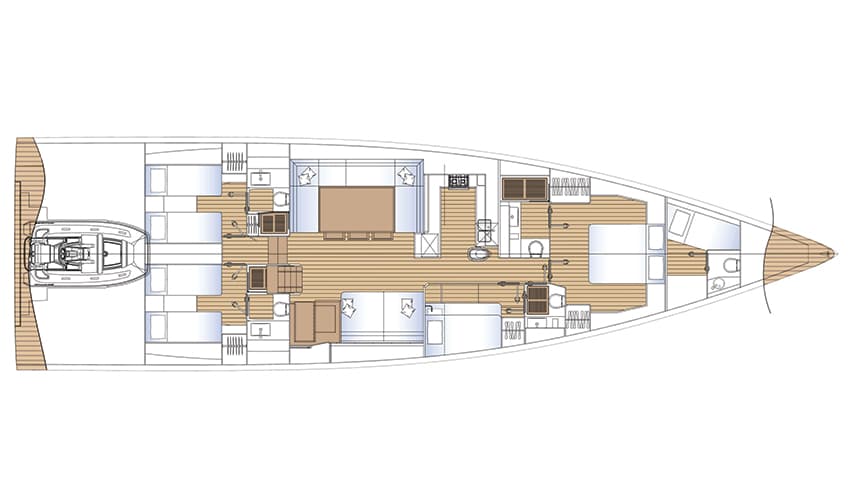 | | |
| --- | --- |
| Longueur de coque : | 21,60 m |
| Longueur de la ligne d'eau: | 20,38 m |
| Largeur : | 6 m |
| Motorisation : | VOLVO PENTA Standard 150 hp; 175 hp - 230 hp en option |
| Capacité en eau : | 1 200 L |
| Capacité en carburant : | 1 000 L |