Solaris 80 RS - The ultimate in comfort!
The Solaris 80 RS is the largest of the Solaris RS range of models under 24 metres. It offers increased levels of comfort, accommodation and capacity for ocean cruising. The yacht is available in a number of interior layouts to suit all potential owners' requirements and can accommodate up to eight guests with crew. The 80 RS is built in Solaris' advanced composite facilities, which offers the option of building the hull and deck in Sprint Pre Preg.
In keeping with the Solaris Yachts range, the sail handling is directed entirely aft to two banks of blockers supported by electric or hydraulic winches and can be easily managed by a limited crew. In line with recent Solaris designs, the 80 RS will be fitted with twin rudders, a standard 4.0 draft with the option of a 2.6 to 4m hydraulic keel.
The Solaris 80RS has been designed for long distance cruising in deep waters. Of particular importance are the generous spaces above and below deck. A unique environment has been created for the dinette, under which the engine room is located, while above, the sunroof windows offer a panoramic view of the sea and natural light that makes the interior glow.
The interior layouts of the first two 80's are different. In hull 01, the owner's cabin is aft, while in hull 02, it is forward. Either way, the boat will be fitted out with 4 double cabins, each with its own bathroom and shower. The skipper's and crew's cabins will also have a separate bathroom and shower.
On deck, the boat is extremely clean and ergonomic, a consequence of the complexity of the project which led to the design of a cockpit line on a single floor level.
There are two different versions of the companionway entrance: central with 2 tables or offset with one table. The helm and sail management area is clearly separated from the relaxation area. The aft deck is extremely wide with access to the hydraulically operated tender garage which can accommodate a 3m tender with longitudinal access, this with minimal intrusion into the aft cabins while the transom also serves as a large bathing platform.
Again, with a choice of interior finishes - light oak, teak, washed oak and antique, the craftsmanship, attention to detail and overall quality are as you would expect from Solaris Yachts.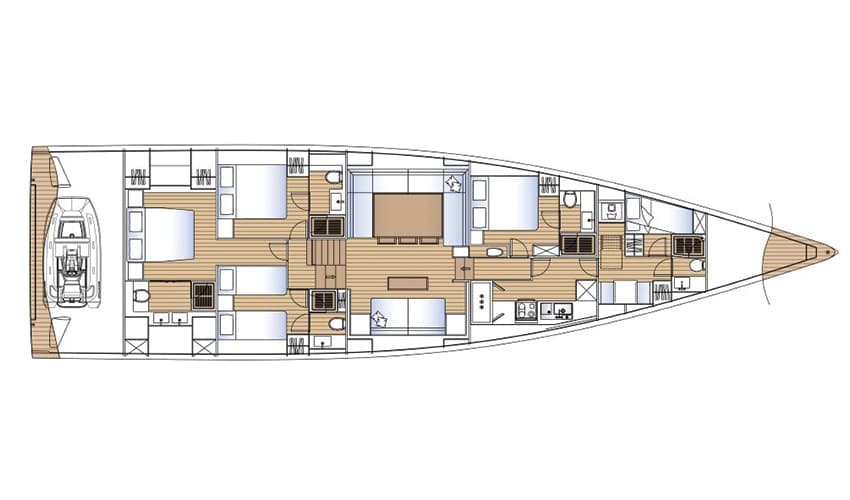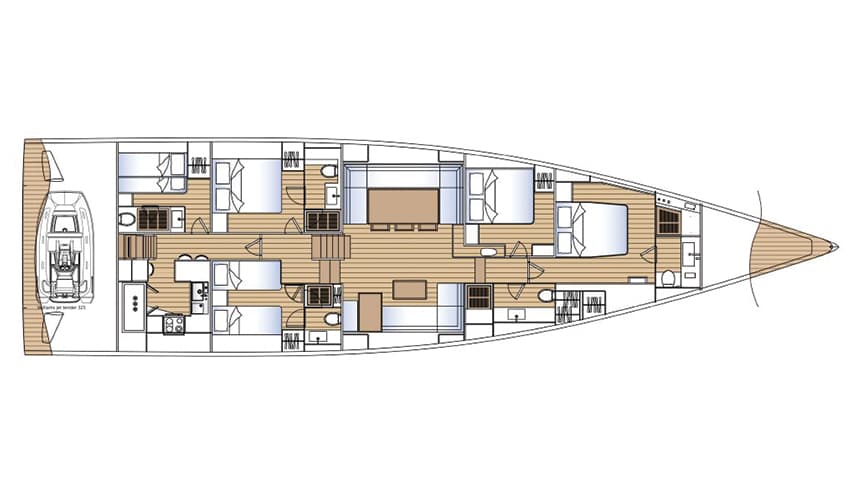 | | |
| --- | --- |
| Longueur de coque : | 23,98 m |
| Longueur de la ligne d'eau: | 22,48 m |
| Largeur : | 6,39 m |
| Motorisation : | Volvo Penta D4-180 – 180 hp @2800 rpm |
| Capacité en eau : | 1 500 L |
| Capacité en carburant : | 2 000 L |